Consulting & Legal Services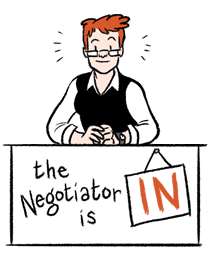 ---
Thanks for thinking of hiring me! Remember: until we enter an agreement, I am not your lawyer. That means I can't give you legal advice and we don't have a confidential attorney-client relationship.
---
I went to law school with one basic goal in mind: help artists.
I've worked in Las Vegas protecting the rights of entertainers, athletes and large casinos; in local government practicing civil rights and First Amendment law; in corporate America negotiating and managing multi-million dollar tech and professional service contracts; and for many authors, cartoonists, designers and actors who make art their livelihood.
I don't have a fancy office and I do most of my legal work in jeans and a t-shirt. This means I can keep my rates affordable and focus on providing the best, most accurate advice possible to support the work of my clients.
Legal Services
I provide a wide range of legal services designed to help creative freelancers and businesses.
Contact me if you need help
reviewing, revising or drafting contracts;
protecting your intellectual property rights;
registering your copyrights or trademarks;
responding to a cease and desist letter; or
understanding potential legal issues related to your art.
If you have a criminal matter, would like to sue someone or are being sued by someone, I'm not the right lawyer for you. If you are having problems finding a lawyer, contact the Oregon State Bar referral line or if you live elsewhere, the bar organization in your state.
No one understands the complexity of service and creative contracts like Katie Lane. She keeps it simple and keeps it clean, and when you're dealing with creative concepts and products that is exactly what is needed. —Cory Casoni, Business Manager & Marketing Professional
Negotiation Consulting
I also help people prepare for important negotiations and improve their day-to-day negotiation skills.
Contact me if you need help
developing strategies for your next salary or contract negotiation;
figuring out the best way to talk with a client or collaborator you're having issues with;
mapping out a plan to save a negotiation that's going south; or
improving your negotiation skills in a fun and non-intimidating atmosphere.
I was really nervous about working with someone on my contract negotiations, and wasn't sure what to expect. But from the very start, Katie made me feel like I had made the right decision. My contract negotiations were a snap because Katie was there for me every step of the way, and made the entire process crystal clear.— Cat Ferris, Cartoonist
Cost
I work hard to find legal solutions that fit my clients' budgets and needs. Once I understand the type of help you're looking for, I can give you an estimate for my services and a number of options for how we can work together. I am happy to talk with potential clients about how best to budget for legal services, and what you can expect if you hire me.
My rate for negotiation coaching depends on the type of help you need. I provide packages for individuals interested in working on an as-needed basis and for those interested in improving particular negotiation skills over a period of several weeks. I cannot give legal advice to my negotiation-only clients.
My fees for workshops and classes depend on the need of your organization. More information about the type of classes I provide can be found on the  Workshops & Classes page.
For an accurate quote regarding your particular needs, please contact me using this form.