Stumptown Comics Fest is fast approaching (April 27th & 28th) and I've got three great panels to help you master your freelance career!
And if that's not incentive enough, I'll be giving away a free 30-minute consultation to one lucky attendee at each panel!
First up: Freelancer Panel
Saturday, 5pm, Room B117
Are you ready to strike out on your own in the wonderful world of self-employment, but you're not quite sure where to start? Listen to expert freelancers share their hard-won knowledge, answer your questions and swap a war story or two. Artists Erika Moen, Matt Bors and Natalie Nourigat join freelance adviser and attorney Katie Lane in this informative
and empowering panel. Bring questions!
Next up: How to be a Negotiation Ninja!
Sunday, 12 pm, Room B111
Does the idea of asking for a raise or negotiating a contract for your next freelance job make you want to breathe into a paper bag? Let copyright lawyer and negotiation expert Katie Lane teach you how to become a Negotiation Ninja in a style that feels comfortable and powerful. You don't want to miss this popular workshop if you freelance or deal with the daily slings and arrows of cubicle politics.
This panel usually fills up quickly and seating is limited.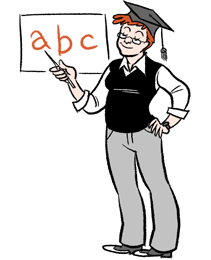 And finally: Copyrights & Wrongs
Sunday, 4 pm, Room B117
What is a copyright? Can you use the world of your favorite video game as inspiration for your next story? Is that Internet shop really allowed to sell t-shirts of your illustration? If you've ever wondered about any of these questions, join attorneys Kohel Haver and Katie Lane (members of Oregon Volunteer Lawyers for the Arts) as they provide an entertaining and educationally rich dialog on copyright, fair use, parody, misappropriation, and what you can do the next time your illustrations end up as t-shirts on Zazzle.
________
I'm excited about each of these panels and I'm grateful that Stumptown's giving me so much time to talk to people about turning their art into a successful freelance career.
"That's great, Katie, but what's this about a free consultation?"
At each panel I will give away one free 30-minute legal or negotiation consultation to an attendee.
To be eligible you must:
» Have a business card. It doesn't have to be fancy and it can be one of a kind but you must have a business card with your contact information on it.
» Be present at the time of the drawing. I will draw one business card from a hat/box/mason jar during each panel. If I pull your business card and you aren't there, you forfeit your winnings. 🙁
» Not have won a consultation from me in the past 30 days. I want to reach as many people as possible, so, sorry, no double dipping.
You can use your consultation to talk about a negotiation you're having, a contract you're worried about or to get answers to questions you might have about intellectual property. The regular lawyerly caveats apply: I can't advise you on something that would pose a conflict to a current or past client and I can't advise you on the laws in a state or country where I'm not licensed to practice. If you have questions about that, shoot me a line.
---
« 3 Tips to Make Your Negotiations Better