This might be the most helpful thing I've posted on the blog so far.
The day after Thanksgiving, Dylan Meconis, Erika Moen, Bill Mudron and I got together and decided to talk about comics, being professional freelancers, getting comfortable with the business of art and how awesome Steve Lieber is.

Dylan will have the full podcast here later this week & Erika has the full 2.5 hours of UStreaming Fun here.  I've edited a version that highlights all the great information Dylan, Erika & Bill shared about being professional freelance artists.  Here:
What makes this so helpful, in my humble opinion, is that all of the advice is coming from people who make their living as professional freelance illustrators and comics artists.  They talk about everything from how to start your next big project to how to talk to clients about work, the benefits of working with other freelancers and what to be on the look out for if you decide to post your work on collective sites.
I've been wanting to do something like this since earlier this year when a reader approached me at MoCCA asking for more practical information about working as a freelancer.  I think this podcast is a great start for that conversation and I'm looking forward to tricking folks into doing many more.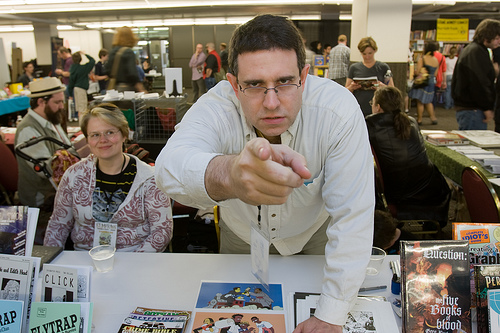 [The audio levels can be a bit goofy; we used the internal mic on one of our laptops & the fan really kicks in toward the end.  The version posted here clocks in at around an hour; if you want to download it go here.]
---
« $$$