I've probably taken the Myers-Briggs personality test, or some variation on it, at least a dozen times over the course of my life so far.
Every time I've taken it in the last twenty years, the proctor has given me the results with a raised eyebrow.
Why?

I'm an introvert.
As a kid I just squeaked into the extrovert side of things. As I've gotten older my results show me steadily marching introvert.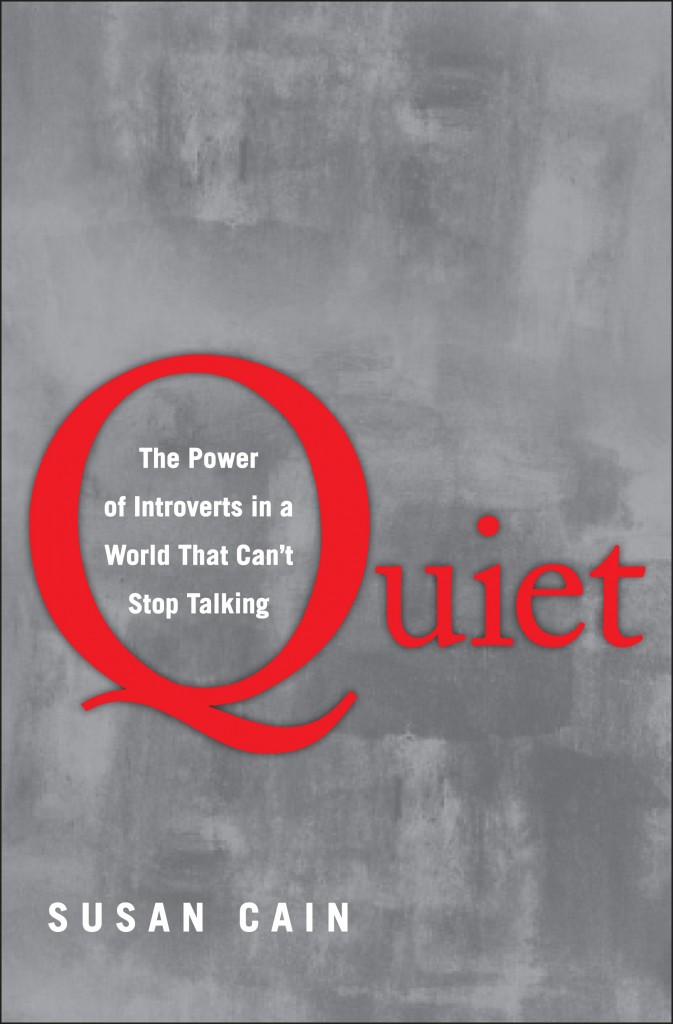 The proctors, and other folks who don't know me super well, usually think the results are off or I didn't answer the questions as instinctively as instructed.
Sure I can hop on a stage, speak to a large crowd or talk to a stranger at a party. But given my druthers I'd be at home with my wife reading a book or watching silly television. I usually leave parties early because I'm tired. I'm proudest when people tell me they think I'm a good listener.
So when I was listening to Susan Cain's book, Quiet: The Power of Introverts in a World That Can't Stop Talking I nearly started screaming in recognition as the book ticked off familiar traits.

And then came the passages on her earlier career as a negotiation coach.
I nearly fell over in shock. (Which is dangerous since I listen to books at the gym.)
Susan Cain loves negotiation and introverts! I love negotiation and introverts! Obviously, we should be best friends.
What I appreciated most about the book is that it wasn't trying to teach introverts how to be extroverts, but instead tried to highlight the special powers introverts have. And, let me tell you, introverts who are self-confident are naturally formidable negotiators.
Which is part of the reason I love teaching negotiation and particularly love doing it at conventions.
I've got three (yes, three!) panels coming up at Emerald City Comicon, in Seattle, WA, March 1st – 3rd.
How To Read and Understand Your Next Publishing Contract, with Caitlin DiMotta, Friday, 6pm, Room 401
How to Be a Negotiation Ninja, Saturday, 4pm, Room 401
Professional Tools for Self Publishers, with Rachel Edidin and George Rohac, Saturday, 6pm, Room 401
Here's the deal: if you come to all three of the panels, and fill your brain with negotiation goodness, I will give you a 30 minute negotiation consultation for free.
You can use your well earned consultation however you see fit: want to practice negotiating over the phone? We can do that! Want to learn more about preparing for a negotiation so you can feel confident about your skills as a negotiator? We can do that! Want to talk through an upcoming negotiation you'd like advice on? We can do that! (Want to talk about your legal questions? That's a different kind of consultation.)
All you have to do is come to all three of my panels at Emerald City. At the end of the first panel be sure to come up afterwards and grab my business card. At the end of each panel I'll mark the card and a card with all three of my super secret marks will get a certificate good for one 30 minute negotiation consultation with yours truly.
Don't live in Portland? No problem. We can meet over Skype or Google Chat.
Not going to Emerald City? Stay Tuned! In March I'll be opening up a few new slots for negotiation clients.
So, in summary: read Susan Cain's book, come to my panels at Emerald City Comicon and rock on with your quiet, powerful self.
Want to learn more about Susan Cain's research on introverts? Check out this RSA short illustrated by Molly Crabapple. Cain's TED Talk is here.
---